heat it® for Android
NO MORE ITCHY INSECT BITES!
Note: heat it® for Android is not compatible with iPhone 15. We are working hard on a new heat it® variant for the iPhone 15. Thank you for your patience! Expected release: end of December.
10% off when you order 2 heat it® with code Multi10
15% off from 3 ordered heat it® with code Multi15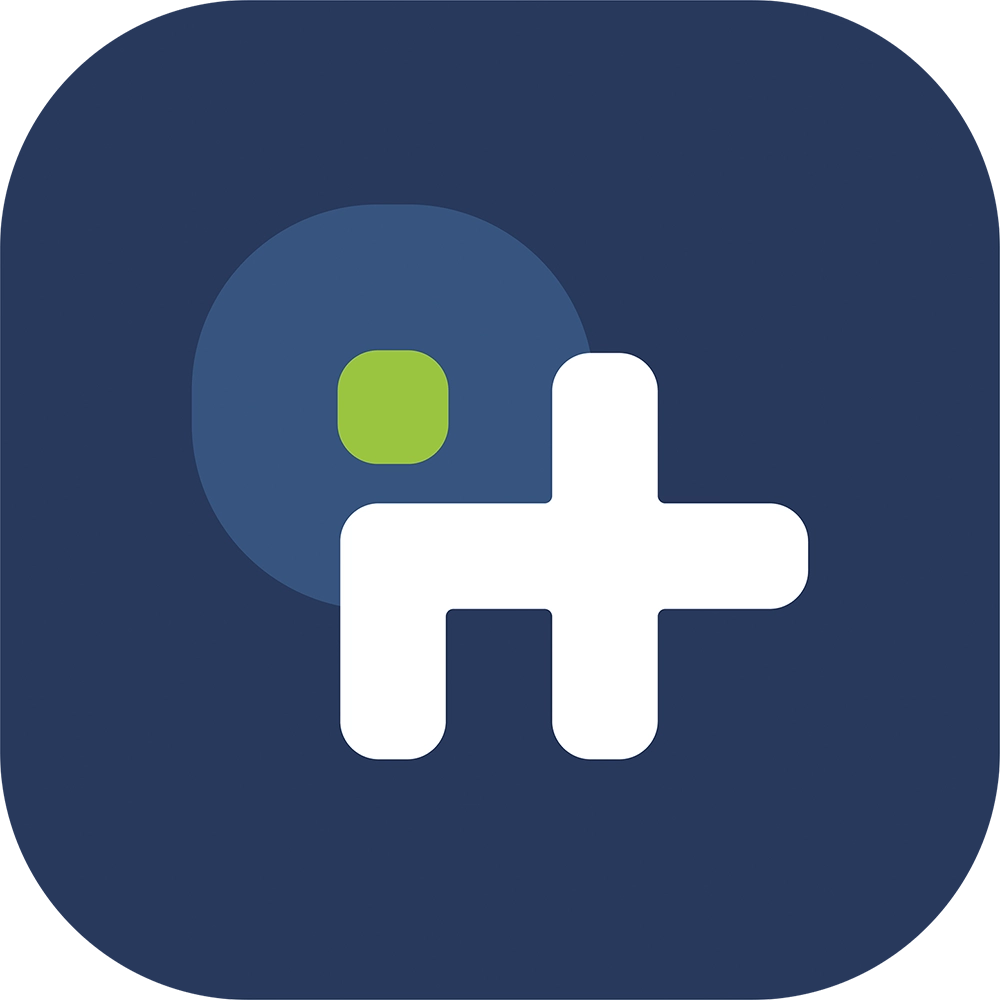 heat it® for Android
heat it® can help to relieve the itching caused by insect bites. Using heat, itchy bites can be soothed quickly and easily with your smartphone.
Five good reasons
heat it® can be used for insect bites caused by mosquitoes, horseflies, bees and wasps. Just heat it!
To relieve itching, the affected skin area is briefly heated to around 51 °C (concentrated heat). This chemical-free principle of local hyperthermia is not only scientifically confirmed, but also reliable and easy to use.
Always with you on the keychain

Small, handy and robust, heat it® is your ideal companion in everyday life, while traveling or during sports. The compact design means you always have it on your keychain and are prepared against itchy insect bites.
With our app you can individualise the treatment to suit your sensitivity. Therefore, heat it® is also perfectly suitable for children from 4 years (self-application from 12 years). All in all, the free and intuitively designed heat it® app offers 12 different treatment options.
Chemical-free & sustainable

heat it® works only with natural heat and completely without chemicals. By not using your own batteries, you can benefit from a sustainable product without follow-up costs. We also use plastic-free product packaging and ship all orders climate neutrally with DHL GoGreen.
Simply plug heat it® into the charging port and the heat it® app opens. If necessary, you can now customise the settings. After a short warm up, place the contact surface of the heat it® on the insect bite. Depending on the setting in the app, the process takes 4, 7 or 9 seconds.
Compatibility
Please check whether your smartphone is compatible with the heat it®. The corresponding heat it® app is available free of charge at Google Play and at the Apple App Store.
Android Smartphones with USB-C

heat it® for Android is compatible with Android smartphones with a USB-C port. In a few smartphones from e.g. OnePlus or OPPO the function "OTG" has to be enabled manually.

Note: The current heat it® for Android is not compatible with the iPhone 15. We are working on a new heat it® variant for the iPhone 15. Thank you for your patience! Expected release: end of January.
Older smartphones with Micro-USB

Older Android smartphones with Micro-USB port must support the OTG standard and require an adapter.

Unfortunately, these micro-USB smartphones are not compatible:
- Huawei P9 lite
- Samsung Galaxy A5
- Samsung Galaxy A6
- Samsung Galaxy A7
- Samsung Galaxy A10
- Samsung Galaxy J5
- Samsung Galaxy J530
- Samsung Galaxy S5 neo
- Samsung Galaxy S5 mini
- Cubot Note S
Quality promise
heat it® meets the highest standards. Our quality management is TÜV Süd certified. Your smartphone and its battery are optimally protected thanks to a sophisticated security concept.
Minimal battery consumption

Up to 1,000 applications at the highest level are possible at a stretch with a full smartphone battery. That's enough for you, your family and friends.
We are Kamedi GmbH - a dynamic Karlsruhe startup with its own development and production. From procurement, to production, to shipping: we take everything into our hands. Made in Karlsruhe since 2018.
100 day trial & 2 years guarantee

Convince yourself of the little miracle weapon against insect bites. With the extended right of return, you can put heat it® and its proven principle to the test without risk.

High-quality and durable products are our top priority. heat it® should be your reliable companion in every life situation. However, if a defect should occur, our 2-year guarantee will apply in addition to the statutory warranty. Just heat it!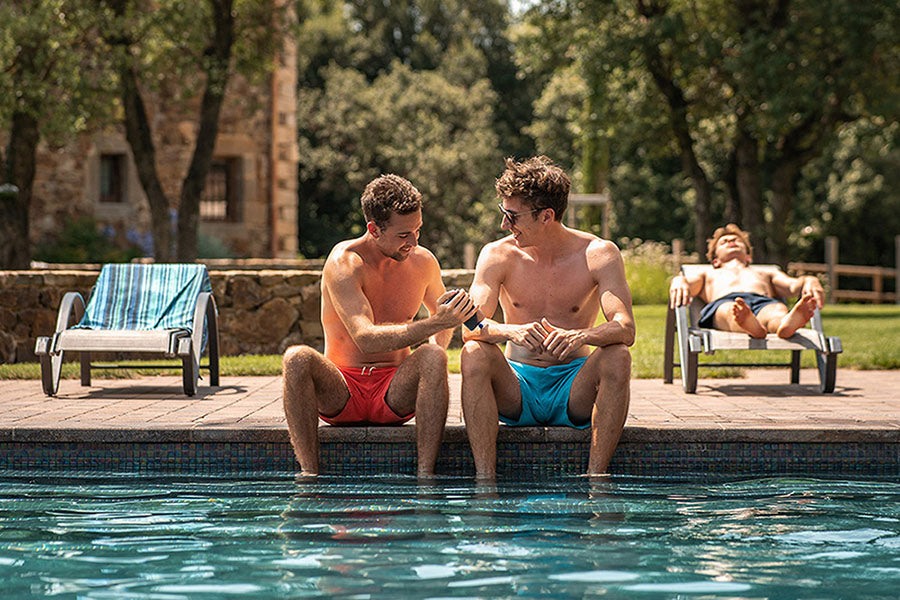 Your ideal companion
Summer, sun, mosquito bites
Summertime means mosquito season. Turn your smartphone into a little wonder weapon and don't let yourself be bothered by itchy insect bites. And best of all: heat it® is always on your key ring. Just heat it!
Proven principle
Why mosquito bites itch?
Itching is the body's reaction to the mosquito saliva injected during the bite. Our immune system fights back by releasing histamine. As a result, the blood vessels dilate, the bite swells and begins to itch. Heat treatment of the bite causes various endogenous reactions that can relieve itching and pain.
Give an itch free summer
A unique present
Are you still looking for the perfect gift for a birthday or another occasion? With heat it® you can create a special surprise. It's obvious, who wouldn't love an itch-free summer as a gift?
Technical details
Product specifications
Connection type USB-C
for Android (not suitable for iPhone 15 or iPads)
Weight and size
4 grams / 37,4 x 17,5 x 8,5 mm
12 Treatment options
47 - 52 °C / 4, 7 or 9 seconds
Age restriction
From 4 years (self-use from 12 years)
Power consumption
approx. 0.1% of the smartphone battery per treatment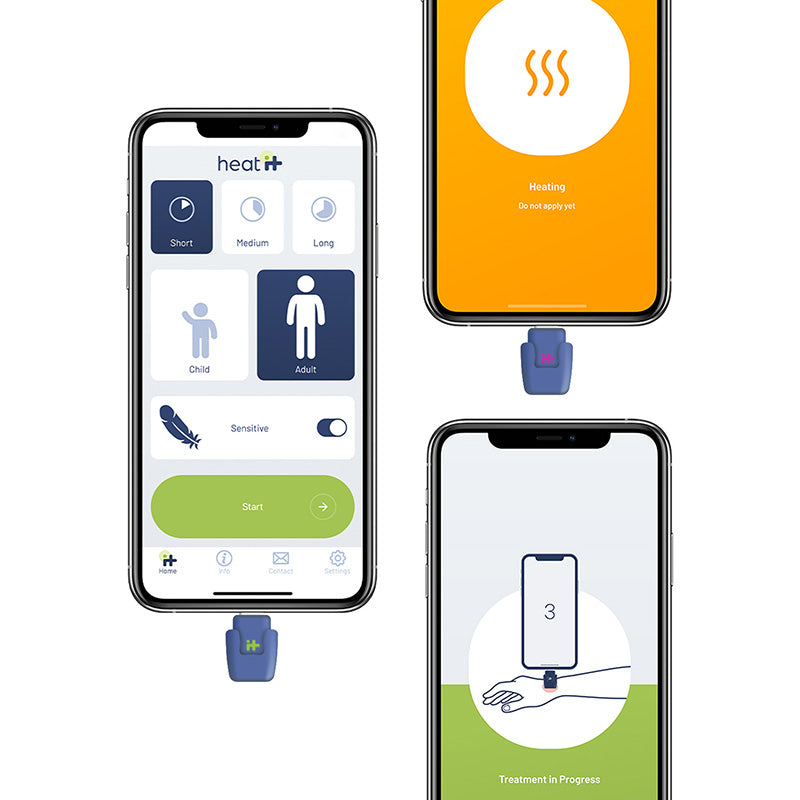 The heat it® app
The free and intuitively designed heat it® app is the central element for using heat it®. The innovative pairing between the insect bite healer and the smartphone has already convinced more than 500,000 users, who together have carried out more than 10 million treatments. So you're in the best hands.